Last few weeks we moved out from Bleinhem and travel to several places at West Coast of New Zealand's south island.
Our first destination was Westport. On the way to Westport, we stopped at Nelson Lake and Muncheison Falls. The scenic on the way to Westport is really nice and we also saw rainbow above the Mucheison. We stayed at Westport's BBH and continue our journey the next day.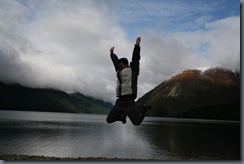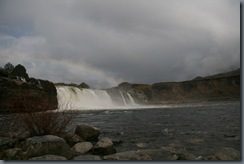 We then moved to Franz Josef. On the way to Franz Josef, we stopped at Punakaiki. At Punakaiki we saw Pancake Rocks and Blowholes. The Pancake Rocks was formed by layered of rocks and the Blowholes was formed by the huge wave from the sea over the rocks.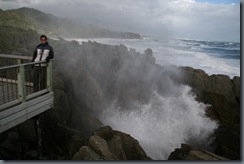 We stayed at a BBH at Franz Josef and the next day we went to Fox Glacier to hike the glacier (so called ice mountain?). We need to where crampon to walk on the glacier and it is not slippery and is not cold as expected. Glacier is formed by a compression of layer of snow from the top of the hill.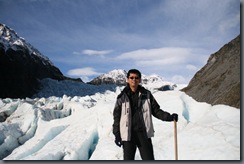 We also went to Lake Matheson. At the lake, you can see the lake is like a mirror. You can see the scenic opposite is reflected on the lake. It was amazing!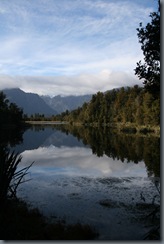 After the Fox Glacier tour, we moved to Hokitika and stayed one night. We the continue out journey to Hanmer Springs. At Hanmer Springs, we visited to the spa and it was so cool and amazing! It is an open air spa. It was snowing the time we were in the spa, cool! The surrounding scenic is very nice too. Something that don't like much is that it is too packed, too many people. However we still very enjoy there.
After Hanmer Springs, we headed to Christchurch to take the Tranz Alphine coach. The coach is from Christchurch to Greymouth. It is a must if come to New Zealand. You will have a stunning views on the train!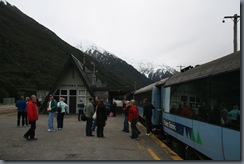 At Christchurch, we also went to a small town call Lyttelton to have our lunch. We ordered two burgers. The burger was as large as a plate and it is so yummy too!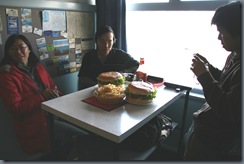 We then moved to Lake Tekapo to meet a few friends at there. They works as cleaner at the hotel near by. Lake Tekapo is a very small town and there is only a few shops and restaurant there. Luckily one of our friends's boss is very kind, he offered a very cheap and very nice accommodation to us. We stayed there for 3 nights. We went to ice skating and hike mount John. We also made snowman at there! It was really fun there.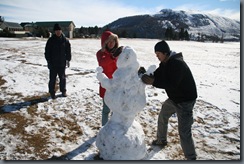 Finally we have got a job offer at Rakaia and we have to move to Rakaia to start working the next two days. We unable to find any accommodation. At the end we now staying at holiday park which cost us NZD110 per week per person. One house (a really small cabin with 2 beds only) for two person, no toilet and kitchen. Kitchen and toilet are shared at the outside. It is so cold to walk to kitchen or toilet at the night and morning. It is much more difficult to take a bath as the toilet does not have any warming device. So pity of us…