After the lily bulbs processing season has finished, we stopped working and decided to go to Christchurch to extend our working holiday work permit.
At Christchurch, we had requested the inland revenue department (IRD) to print out the tax statement and according the officer it will takes 5 to 10 working days. We then planned to stay in Christchurch and wait for the IRD tax statement.
We also met our friends from Taiwan and Hong Kong whose we had worked together in Tauranga and Rakaia. We (4 of us, Han Shyong, Wee Cheng, Lee Fong and me), Sinny, Joan, Yana and Scott had a good time in Christchurch. We went Christchurch to have our dinner, went up hill to "blow blow win" and had another dinner at Nando's.
We also went to ski at Porters Ski Area with our friends from Rakaia. It was my first time at ski field. It is not hard to learn but it just too difficult for me to control the ski when I'm in very high speed. It was fun and great experience.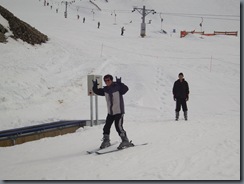 The Botanic garden in Christchurch is a nice place to go especially if like to photography. The flowers and plants here are beautiful and the garden is most beautiful during spring. I went to the garden and now was the time near to spring, the flowers are so nice and I had taken a lot of photos.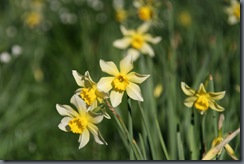 After a few days of waiting the IRD tax statement, we decided to not wait for the IRD tax statements and asked ST to help us to submit the working holiday extension form after a few days. We decided to continue our journey to visit the remaining places in South island of New Zealand. We traveled together with Joan and Yana for a few places.
The first place we went was Akaroa. Akaroa has a BBH with the highest rating (98%) among the other BBH. Very unluckily, there was no vacancy in the BBH. So we decided to move to the next destination, Methven.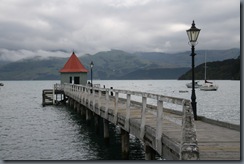 We stayed overnight at Methven and moved to Lake Tekapo. We had our yummy Japanese style lunch at Lake Tekapo. After we had taken a few photos, we moved on to Mount Cook. We had our delicious dinner at Mount Cook YHA. Yana and Joan cooked us the Taiwan style spicy steamboats. It was so nice and SPICY. I also had taken a few night shots at the surrounding of Mount Cook.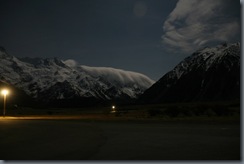 At day time, we went to a few tracks at Mount Cook. We saw lakes, glaciers and stunning views of mountains.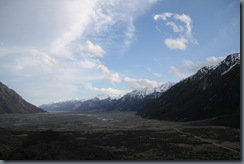 After 2 days of stays in Mount Cook, we moved to our next destination, Lake Wanaka. Joan and Yana continued their journey to Timaru, Oamaru and so on… Lake Wanaka is one the most beautiful lake with city that I have ever seen. We spent a lot of time and had having fun at the Puzzling world and it was my first time take gun shots at "Have a shot" next to the Puzzling world.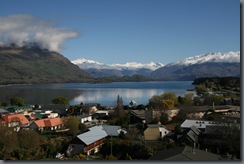 Han Shyong, Lee Fong and me also took a Skydive in Lake Wanaka. It was a great experience and it was not fear at all. At the sky, you can see the stunning scenic around the Lake Wanaka (Snow mountains, lakes, rivers, farms…).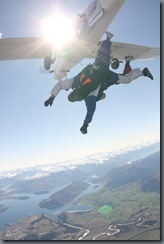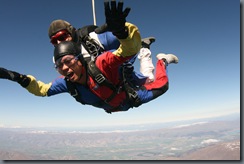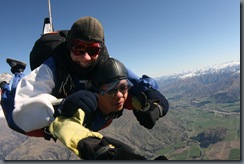 At Lake Wanaka, we also met our cute friends from Rakaia, Yumi and Sonia. They made muffins for us. Although the muffins were a bit over baked but still very nice to eat.
After the Skydive, we moved on to Queenstown. One the town that I like, busy at day time and happening at the night time. We stayed at Queenstown's Lake front YHA. We got a free beer (Friday only) at "The world bar" for staying in YHA.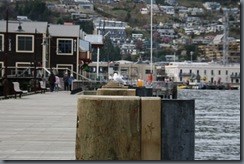 We also visited a small town called Glenorchy before we moved on from Queenstown to Te Anau (A place that I most awaited).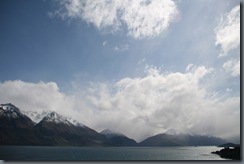 At Te Anau, we met Sonia. Me, Han Shyong, Wee Cheng and Sonia, went to the Doubtful sound overnight cruise. Although it was raining during the tour, the scenic still very nice and amazing. I liked the kayak activity very much. The dinner buffet and breakfast on the cruise were great too.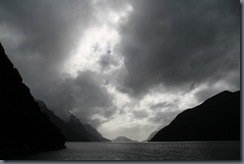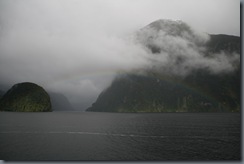 After Te Anau, our next destination was the end (nearly) of the world, the Bluff. Bluff is the south-est place of South Island, New Zealand and it is the oldest European settled town in New Zealand We stayed in Invercargill and the next day went to Bluff to take photos.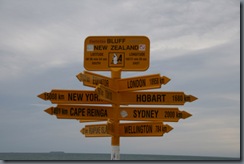 We then moved on to Catlins. A place where we went for waterfall, waterfall and waterfalls.
At Nugget Point (northern end of he Catlins coast), we saw yellow-eyed penguin, the world's rarest penguin.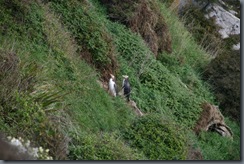 At Dunedin, we went to the Tunnel beach. Tunnel beach is a beach where you can only access thru a tunnel.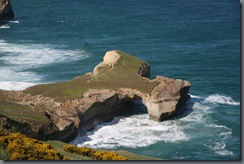 We also visited and walked the world steepest street in Dunedin, Baldwin Street.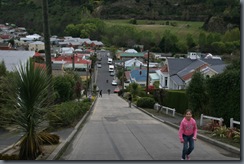 We then moved on to Oamaru to see blue penguin. You need pay to watch the penguins at the Oamaru Blue Penguin Colony central but we didn't. We just wait at the roadside of the central at around 9pm to 10pm. We saw around 10 penguins walking across the road and railways. There are so cute.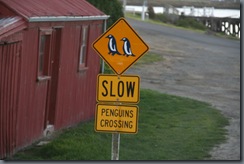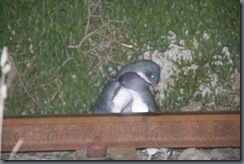 After Oamaru, we moved back to Christchurch to wait for our Working Holiday Visa extension. According to the immigration officer, we will need to wait for two weeks to know the result. We have already waited for one week. Are we going to stay here or going back home Malaysia? We still don't know.
Note: More photos at my Flickr photos collections (not up-to-date because I had taken too much photos and need time to upload!).